And Les tells it best...
LP: "My mother came in 1946 to visit us in Chicago. She drove down from Waukesha, and she said, 'Lester I heard you on the radio last night, you played real good.' And I said, Mom, it couldn't have been me on the radio because I've been doing seven shows a day here with the Andrews Sisters at the theater. And she said, ' well you should do something about it, Lester because there are people out there copying you and they sound just like you.' And when your own mother can't tell you from the other guy you got a problem. And I say you know what I'm gonna do? I'm gonna create my own sound."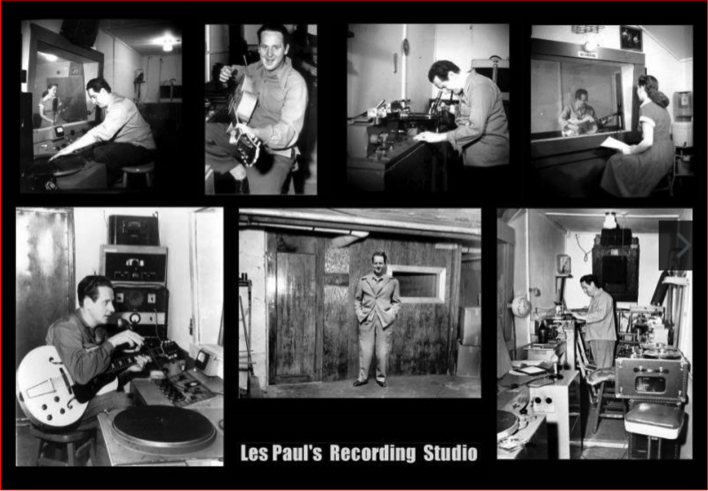 Dubbed the "New Sound," this new approach was focused on a process of recording layers of music — overdubbing — to create recordings that soon featured only Les's guitar. Paul achieved this by recording a track onto a disk-cutter, then playing that track back while recording a new track onto a second machine. Working in this way with two disk recorders, he also added speed effects (achieved by recording at half speed and then playing back at full speed) and some distinctive echo. The resulting tracks sounded like nothing before them.

For his "New Sound" Les relized the need to expand beyond instrumentals. After running into Gene Autry, Les asked if he knew a real good singer. Autry suggested auditioning Colleen Summers (Mary Ford). The professional relationship soon blossomed into romance and Paul and Ford were married in 1949. As a singer, Mary soon became a significant part of Les' new sound. They began experimenting with multi-track recording, which allowed Ford to harmonize with her own voice, a completely new idea at the time. Placing the microphone much closer to the singer's mouth (the studio standard in the 1940s had been six inches at a minimum) allowed for warmer, more relaxed, less brassy vocals. Pairing these new recording techniques with breezily arranged jazz standards proved a commercial goldmine. Their first big hit would be a cover of "How High the Moon," which used an unheard-of 24 tracks of guitar and vocal overdubs. The single spent nine weeks at No. 1 starting in March 1951. Another single, "Vaya Con Dios," spent 11 weeks atop the charts. More than 20 gold records would follow.
Colleen Summers ( Mary Ford )
Les also had a new recording device — a special Ampex tape deck that had been a gift from Bing Crosby in 1949. Les had ingeniously modified it to allow for overdubbing. The fidelity on the new unit was much improved from his previous system, and the tape set-up was portable. Many of the subsequent sessions for Les Paul and Mary Ford records would be done in hotels while on the road using this new tape system.
Les Paul's garage In LA was turned into a Recording Studio to find his New Sound
A quote from "The electric guitar :
A history of an American icon"
"The search for a hit record is the search for 'a sound,' that unique combination of an artist's individuality, imaginative musical arrangement, and skillful engineering .... no one has been as successful in creating hits as Les Paul. No one has been as successful in achieving that unique combination."