Rhubarb Red & His Rubes In The Blue Hills Of Virginia, The Old Spinning Wheel, and Firecracker Rag.
National Barn Dance Radio Show 1924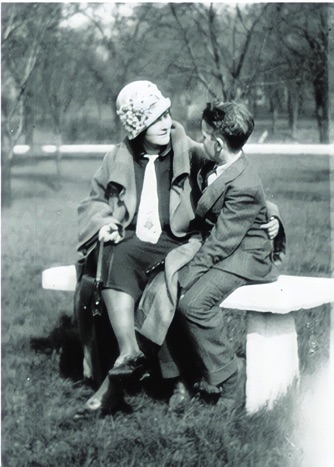 MOTHER KNOWS BEST
Lester' INSPIRATION
Mother Evelyn Polfuss & Lester
Rhubarb Red And His Rubes; Midnight Special
Red Hot Red & Rhubarb Red (1922 - 1934)

Around the age of 14, Dad began performing as Red Hot Red, building on his childhood nickname, which was based on his hair color. He began performing at the local Bar-B-Que stand. There, a customer made him aware that his guitar could not be heard, which led to the search for the electric guitar. He soon was appearing on the local radio station WTMJ. He'd already made his first record-cutting lathe out of an old Cadillac flywheel. "The first thing recorded on it was me as Red Hot Red singing 'Don't Send My Boy To Prison' on WTMJ," Dad recalled. "My mother recorded it for me off the air. I still have that disc, too!" Red Hot Red got his first break when Sunny Joe Wolverton, a regional country star, caught Red's act, and the following summer, the two formed a duo billed as Sunny Joe and Rhubarb Red. They toured the Midwest, ultimately landing in Chicago in the early '30s. They also made their first recordings, cutting 111 songs on transcription discs for a company headed by Jack Kapp. The sides have long since been lost.
Don't Hear Music...Click Here