LES' PROCLAIMED
"MY GREATEST ACHIEVEMENT...
THE
BOOGER BROTHERS
RADIO STATION"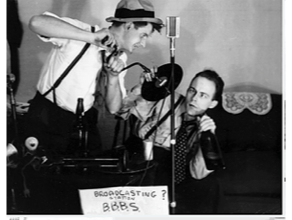 It was 1938, and Dad was becoming well-known on the radio with the Les Paul Trio. He was performing on the NBC radio network five nights a week with the coast-to-coast broadcast of "The Chesterfield Hour" with Fred Waring & His Pennsylvanians.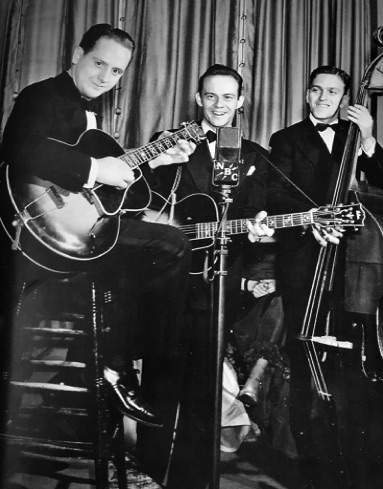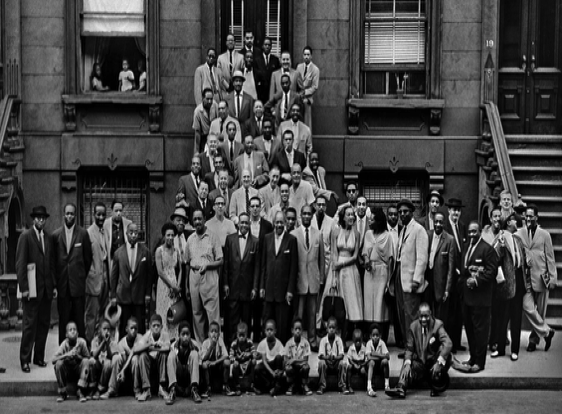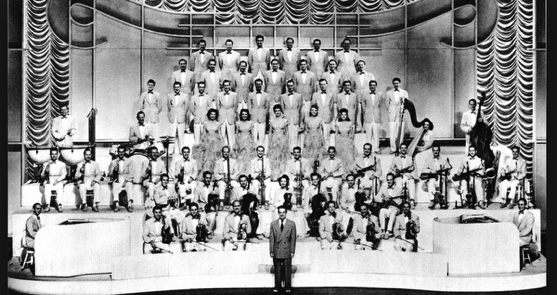 Dad told me it was one of those unforgettable times in his life, and had an idea of how to share it with his audience, but of course, this one was off the wall.
Dad set up a rehearsal space using a small basement room at Electra Court, where he lived with numerous local musicians. As usual, Dad took this concept and ran with it. He bought a radio tube transmitter at a local radio parts store.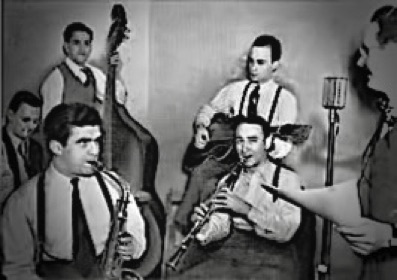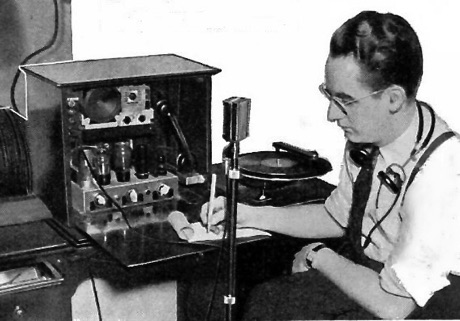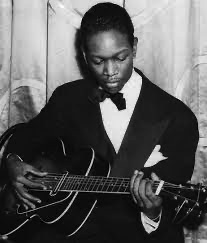 The Booger Brothers radio show was a tremendous local success. The problem was the station was driving the pilots at LaGuardia Airport nuts with Jazz music coming over their radios instead of landing instructions. Eventually, the FCC showed up at Dad's door. And even though the Federal Agents enjoyed the music, Les had to build a wave trap filter to fix the problem.
One hot day in 1941, while jamming in the basement trying to keep cool, Dad stuck his hand into the transmitter, inadvertently reaching to adjust something while holding his guitar, and was electrocuted. Les yelled to turn it off, and Ernie Newton's quick response saved his life. After being immersed in a tub of ice, Les spent weeks recuperating at a local hospital, wrapped like a mummy.
While in the hospital, Les learned that Charlie Christian was dying of tuberculosis down the hallway. Christian's short but stellar career as the guitar player with the popular Benny Goodman group had an enormous impact on the electric guitar players of the era. Dad would love how "Charlie could get the most out of one note in the right place while myself and others were playing as many notes as we could." Les recovered, but unfortunately, Christian, a good friend, passed away.
Dad was quite a prankster, and to thank Ernie for saving his life came up with a great one. Ernie played upright bass with Dad for years, and they were close friends. To show his appreciation of Ernie's deed, Dad started putting a cup of sand in his bass every night they played. Now after a while, Ernie started looking sluggish and mentioned to Dad that he was feeling a little weak and not himself. Dad said it probably was all in your mind and give it time, and you'll be fine. This went on for days till Ernie told Dad he should see a doctor. He said he was now having a hard time taking his bass home at night. Dad finally confesses to Ernie, "I'm no doctor, but maybe you should take the sand out of your bass." At this point, Ernie knew Les was totally back to his old self.
LES PAUL, JIM ATKINS AND ERNIE NEWTON
58 JAZZ GIANTS IN ONE IMMORTAL IMAGE
FRED WARING & HIS PENNSYLVANIANS