"She didn't know I was watching and listening to her in the living room, She would play (the piano) mournfully and cry; she was talking with her hands, saying she was very unhappy. I saw something very strong and deep in my mother then, and the great thing is that she very soon saw the same in me. She was the biggest single influence of my life, and we were close in a way that never diminished till the day she died at the age of 101 and a half."
In the early 1900s, many German immigrants were living in
Waukesha, Wisconsin, including Les's grandfathers. His paternal grandfather immigrated to the United States from Prussia to escape wars and poverty. His maternal grandfather moved from Germany to The United States in search of a new job. Life was not always easy for immigrants.
Les' mom, Evelyn Stutz, was born in Wisconsin on July 30, 1888, to Wenzel Stutz and Elizabeth Meyer, Elizabeth passed not long after Evelyn's birth. She was related to the founders of Milwaukee's Valentin Blatz Brewing Company and the makers of the Stutz automobile. When Les's mother was young, she had to drop out of school and get a job to help earn money for her family. The youngest of five daughters, she grew up wishing to become a singer and dancer.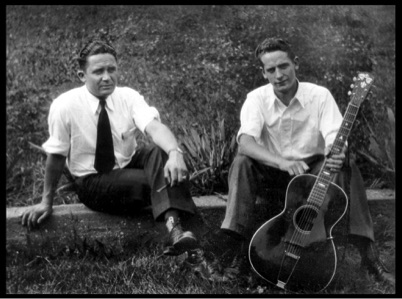 As a homemaker, Evelyn often sang songs as she cleaned. Three-year-old Les quickly learned the songs' words and melodies. Always optimistic, possibly bordering on fanatical, Evelyn was passionately convinced that three-year-old Lester was a musical prodigy in her mind. She encouraged Lester's curiosity about music, and although she was strict, she did not scold her son when he did things like taking apart her radio or piano. Once Lester even cut the ends off the vertical wood panels that lined the stairwell of their house. He was trying to tune the boards so he could play songs on them like he would on a xylophone. Lester often watched Evelyn play her favorite German songs on her player piano. The pump and keys working together to make different sounds mesmerized him. Curious as ever, Lester punched holes in paper rolls and put them inside the player piano, creating a new sound. If Lester did not like that sound, he put tape over the holes and punched new ones. Although Evelyn did not know the answers to all of her son's questions, she helped Lester find a person with the answers. His curiosity knew no bounds.
THE WORD CAN'T... WAS NOT IN HER VOCABULARY
Les' mom colorized this photo for her son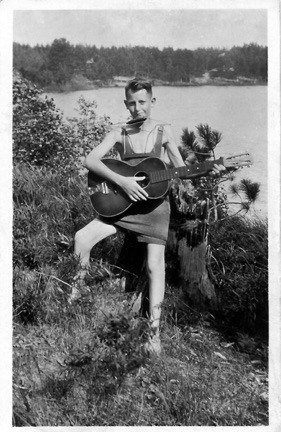 Evelyn celebrated her 100th birthday with a large party at which she credited her long life to good eating habits. She avoided buying food, preferring to grow it herself. Evelyn also used honey instead of sugar and avoided coffee. She was the only resident at the Lindengrove Health Care Center who had a beer prescription- one in the morning and one after dinner.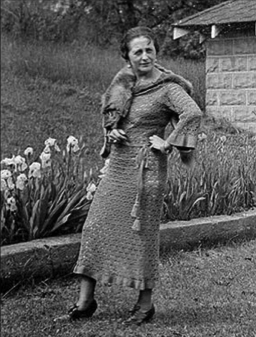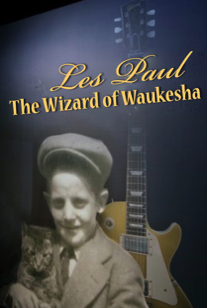 "But that doesn't mean she was easy on me. If I didn't
mow the lawn or make the bed just right, if I didn't do
what I was supposed to do, there was a consequence
to be paid for it. Either you don't get to go out and hear
that orchestra, or you don't get to listen to the radio, or you don't get the crank to the phonograph. She made the rules, and she didn't cut any slack when it came to enforcing them. That taught me a lot right there."
Evelyn had only one rule in the house - "FOLLOW MY RULES"
"Mother always believed I was going to do something remarkable, that was her faith, and she was willing to put it on the line. I didn't need any pushing, and she didn't worry about me getting into trouble because she believed in me. She supported me in every way, and it sure helped."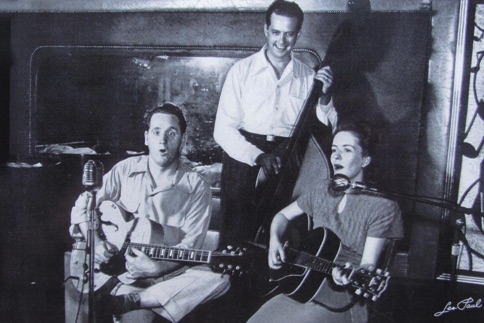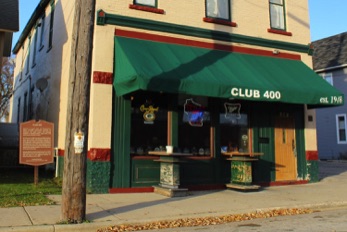 In 1948 George and Ralph Polsfuss, opened the nightclub together the Club 400 in Waukesha.
Les Paul and Mary Ford perform at Club 400 in 1949 with Warren Downie playing bass. It was the first time they performed together in public.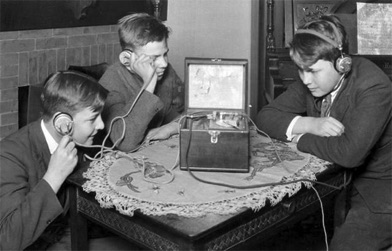 The era of commercial radio began in the 1920s, just in time for the young Lester Polfuss to hear a guitar that would become the driving force for the rest of his life.
Les' parents divorced in 1924 when Lester was nine years old. His mother had $6 a week (about $85 in today's money ) for her two sons and herself. She still wanted to push her sons to do what was best for them, so Evelyn sent Lester for piano lessons. After a few lessons, the teacher sent him home with a note saying Lester would never learn music and not send him anymore. Instead of quitting, Evelyn switched Les to the guitar; although he originally wanted to play the piano, his mother told him that not every place would have a piano if he wanted to perform. The day he got his first guitar, mail-ordered from Sears Roebuck and Co., he accidentally plucked a couple of melodic strings as he pulled it from the box. Encouraging him as always, Grandma said, "You sound great already." 
GP: Dad was deeply influenced by his mother for his whole life. He realized the unfulfilled passion she had for music and seemed to want to help her live that dream through his musical accomplishments.
The movie clip above is an example of what Lester probably saw at the local theater with his mother. The transition from silent to talking movies in the 1920s allowed Les not only to see a guitar but also hear a guitar being played. Experiences like this allowed Lester to absorb as much information as he could find in his local town at that time.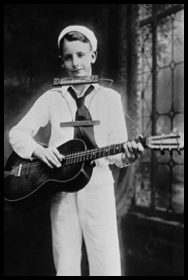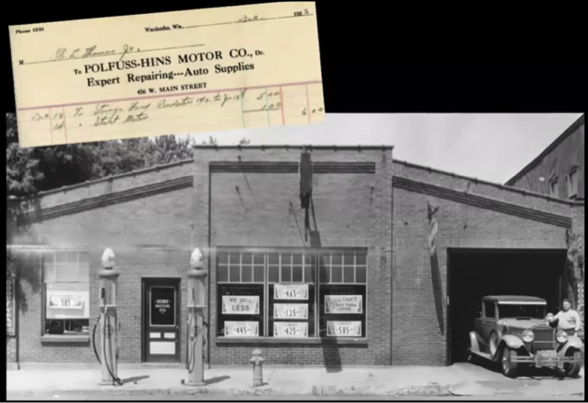 Her father objected to that, claiming, "All entertainers would go to the dogs." She married George William Polfuss when she was around eighteen on March 25, 1907, in Waukesha, Wisconsin, both of German ancestry. George was a skilled mechanic and operated a garage and then a car dealership in Waukesha for many years. He was one of the first three people in Wisconsin to own an automobile, and Evelyn was one of the first women to drive a car in Waukesha, a Stutz Bearcat. In fact, she would drive a taxi with Lester in tow to make a little extra money for her and the kids.
Young Lester with Ralph & Evelyn with her four sisters
Evelyn was also a seamstress, and with the economy in mind, she would make all the clothes for both boys, including the "Navy" outfit Lester is seen holding his Sears guitar and Harmonica.