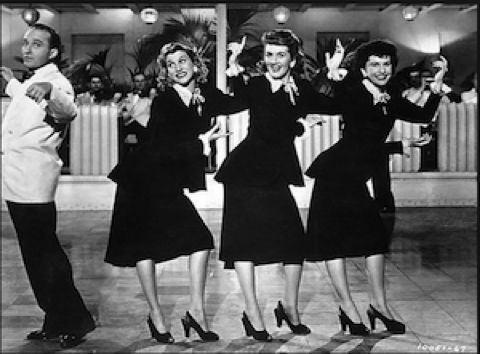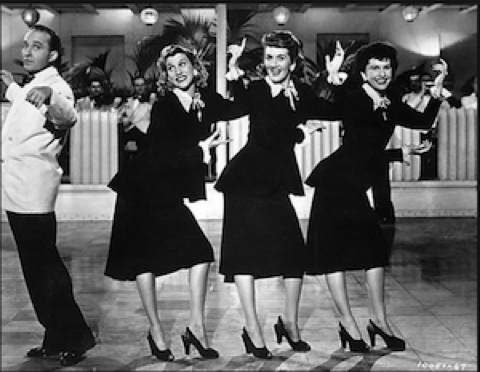 Les Paul And The Trio (1934-1948)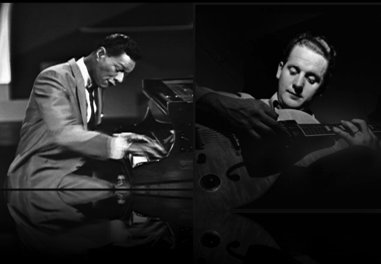 Les talks about the trio and his trip from Chicago to New York City then Hollywood and Bing Crosby.
'Bing was in the men's room. So I go in the men's room, and I'm right next to him, and Bing says to me, `Can the kid sing?' That was his question.
'I said, `I'm afraid so.'
Bing Crosby is clearly a favorite topic. Working with Crosby on radio, Paul backed such legends as Bob Hope, Jimmy Durante, W.C. Fields, the Andrews Sisters and Frank Sinatra. He remember being there the first time Crosby and Sinatra met. He recalls Crosby was wary before the show.
Don't Hear Music...Click Below
Bing Crosby & The Les Paul Trio
The Les Paul Trio & Andrew Sisters
Nat King Cole, Les Paul - Jazz At The Philharmonic - BodyAnd Soul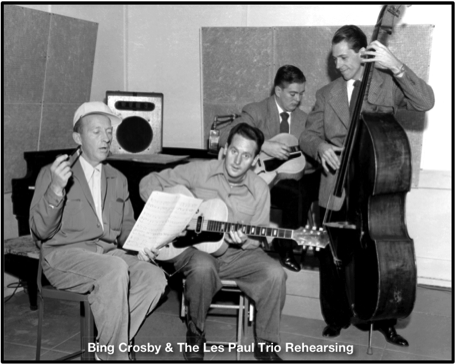 Dad formed his first jazz trio in 1933 with Jimmy Atkins (Chet's older brother) on guitar and Ernie Newton on bass. He developed a solid reputation jamming with the greats of the day, including Art Tatum and Louis Armstrong. In the late '30s, making it big meant going to New York or Los Angeles, and a flip of the coin sent the trio to Manhattan. Les and the Trio stayed in New York working for Fred Waring's Pennsylvanians until 1941, when they headed to California to pursue work with Bing Crosby and the Andrew Sisters. Dad made it to Los Angeles just in time to be drafted into the Army in 1942, which proved to be another big break. He was assigned to entertain the troops on the Armed Forces Radio Services, which put him in almost daily contact with a who's who of the entertainment world at the time: Judy Garland, Bing Crosby, Rudy Vallee, and Kate Smith. Dad served for about a year before entering the world of recording, joining Crosby, and working as an NBC staff musician. Through the mid-'40s, Les and his trio appeared on several of Crosby's hit records, including Les' semi-signature tune "It's Been A Long Long Time" (Decca L3890A). Also, Norman Granz's first Jazz at the Philharmonic session, a now-legendary session that matched Dad with Nat King Cole. From 1944 to 1945, he played almost exclusively on the road with The Andrews Sisters. Dad would tell these stories all the time, and the more I got to know who he was referring to, the more I wished I had been born earlier.