LP: Playing in this little jazz club here on Broadway has given me more enjoyment and pleasure than anything I've done in years. I look forward to every Monday, it's my favorite day of the week. I love getting up there and having a good time with the audience, laughing and playing music. I also get to see a lot of my friends here in New York, people come in to say hello every now and then. Every week is just exciting. I've been playing at the jazz club Fat Tuesdays and the Iridium regularly for twenty-five years, and every time, I discover and rediscover things about music and playing the guitar all the time. When I play for the crowds in New York, it's about evoking emotions through the strings of a guitar, and every night is different, depending on what emotions my guitar is feeling on any given Monday [smiling]. It's where we were the happiest [ Les Paul & Mary Ford ], in a `joint, It was not being on top. The fun was getting there, not staying there – that's hard work."
Eddie Van Halen said, "Without the things you've done, I wouldn't be able to do half the things I do," Eddie Van Halen once told Paul. Van Halen carried on Paul's penchant for experimentation and manipulation.
Slash said, "Les Paul was a shining example of how full one's life can be, he was so vibrant and full of positive energy. I'm honored and humbled to have known and played with him over the years, he was an exceptionally brilliant man."
Joe Satriani said, "Les Paul set a standard for musicianship and innovation that remains unsurpassed. He was the original guitar hero, and the kindest of souls. Last October I joined him onstage at The Iridium club in NYC, and he was still shredding. He was and still is an inspiration to us all."
Jimmy Page said, "I can't think of a greater guitar icon than someone who has the musical talent to change what was there before, and take music in another direction. That's a guitar hero for me."
Lou Pallo said, "He loved playing the melody, and that is very hard to do. A lot of people think it's easy. It's not easy, with feeling, like Les did. He played "Over The Rainbow" so pretty. I never heard anyone play it like Les played it." ( Lou played rhythm guitar with Les for many years )
Nicki Parrott said, "I learned from him [Les Paul] to just keep trying. There were some weeks he really hated his playing, but he never stopped trying to play music. Even if his hands were hurting from the arthritis, he could play the blues like nobody else. Let's face it – to play the blues, it's not about how many notes you can play, it's about playing the right ones. He knew how to entertain an audience, how to make them feel good. He knew how to do that." ( Nicki played bass in the trio )
Paul McCartney said, "Les Paul is one of those guitar players who is every other guitar player's hero."
Tony Bennett said, "Les is giving up his talent to make the vocalist look good, and he's playing just at the right time. Whenever there is an opening, he'll play a little lick, but in the meantime, he has a foundation distinguished that's pretty comfortable, and the vocalist can stay their natural self; there's an art to that."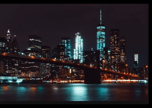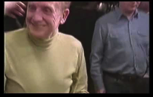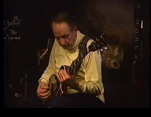 GP: Dad loved being an entertainer more than anything else. He loved playing his guitar and telling his stories and watching his audience join in. If you had the chance to see him in his latter days in a small jazz club in New York City, I feel you would agree.
Although his arthritis bothered him, in the end, he told me, "I've learned something new, with one note you can make someone happy or sad." The Power of Positive Thinking
Les and his trio held court at Fat Tuesdays and then the Iridium Jazz Club for many years, playing two sets every Monday night. Les' influence and star power can still be felt. Dad's incredible ability to tell his stories and entertain his audiences with his music and sense of humor didn't go unnoticed. On any given night, you could have seen Paul McCartney, Eric Clapton, Steve Miller, José Feliciano, Chet Atkins, Merle Travis', Jeff Beck, Keith Richards, or Tony Bennett paying homage to a man that deserves all the accolades bestowed upon him.
Les: "I always looked at work as a privilege and how lucky I am at 87 years old that I can go to work, make people laugh, make people happy, and they, in turn, can make me healthy and happy. The greatest therapy in the world for me is to be able to go to work and enjoy the work."
Gene: I knew Dad would never really retire. It just wasn't in his DNA. Les entertained New York City for 25 more years after he supposedly retired. It's the longest he ever played in one place, and he cherished every moment.