1915 – Lester William Polsfuss is born on June 9 in Waukesha, WI to George and Evelyn Polsfuss.
1923-6 – Punches holes in his mother's player piano rolls, creating multi-track effect; receives a harmonica from a ditch-digger; builds his first crystal radio; learns about sound from a radio engineer.
1927 – first guitar: a Sears and Roebuck Troubador – purchased for $5
1928 – Stretches guitar string over a piece of RR track, adds telephone mic as pickup to amplify;
Builds first disc-cutting lathe with Cadillac flywheel, dental belt and nail.
1929-30 – Meets Gene Autry and Pie Plant Pete as they tour with WLS Barn Dance shows; attempt to amplify and electrify his guitar at Beekman's BBQ; stage name 'Red Hot Red'; attempts to make a solid body guitar by filling an acoustic guitar with Plaster of Paris/ rages.
1931 – Meets mentor Sunny Joe Wolverton; plays Milwaukee area radio station with Joe; and Springfield MO and St. Louis with Joe as Rhubarb Red
1934-6 – Joe and Rhubarb Red move to WBBM in Chicago, hillbilly radio and play at World's Fair; jams at night with jazz greats (ex. Art Tatum) on Chicago's Southside as Les Paul; plays jazz on WIND and WJJD radio
1936 – First recording as Rhubarb Red on Montgomery Ward label, four sides including: 'Just Because' and 'Deep Elm and Blues;' records 20 sides on Decca with blues singer Georgia White
1937 – Forms first Les Paul Trio with Ernie Newton and Jimmy Atkin (Chet's half-brother).
Trio moves to NY for more opportunities; joins Fred Waring Orchestra on NBC Radio
1939 – Performs at the White House for FDR; first commercial record with Trio – four sides on Columbia. Built illegal radio station in basement of his Queens apartment – Booger Brothers Broadcasting Co.
1941 – Built the 'log' in NYC Epiphone factory. Gibson turns down Les' design. Uses his 'Klunker' to perform and record. Suffers extreme shock from Booger Brothers radio station transformer accident and can not perform; Trio splits; moves back to Chicago and becomes music director for WIND and WJJD. Marries Virginia Webb; Les 'Rusty' Paul born.
1943-44 – Moves to LA; forms new Trio; hired by NBC radio; drafted into the Armed Forces; is recruited my Meredith Wilson to work on Armed Forces Radio; creates V-Dics for AFN – learns recording and gets access to acetate dics. Performs with Nat Cole at first Jazz at the Philharmonic concert in Los Angeles, jazz's most famous jam sessions. Gene Paul born.
1945 – Les and his Trio (Carl Gooden and Clint Nordquist) play with Bing Crosby on his post WWII hit 'Its Been a Long Long Time;' builds a studio in his Hollywood garage; recruits Collen Summers (Mary Ford) to play with him (as Rhubarb Red) on hillbilly radio. Plays guitar in several movies.
1946 – Tours with Andrew Sisters; his mother observes that he sounds like all other guitar players. Leaves Andrew Sisters; works in his garage over two years to perfect a 'New Sound.'
Makes first sound-on-sound commercial on his lathe.
1947 – Records his solo hit 'Lover' on his lathe; Decca not interested; takes to new company Capitol Records and signs contract with them.
1948 – Returning to LA from Waukasha,WI, Les and Mary have a horrific accident in OK. Les's right arm is badly damaged; doctors discuss amputation; Les persuades them to set his arm so he can still play. Capitol releases 'Lover' and 'Brazil' Les's first 'New Sound" recordings with overdubbed guitars.
1949 – Les changes Collen's name to Mary Ford; Les and Mary get married. Play in public for first time at his father's tavern in Waukash; Bing Crosby commissions Ampex Corp. to make first US tape recorder; Bing gives one to Les, who orders an extra head which leads to sound on sound recording. Hosts Les Paul at Home Radio Show for 23 weeks.
1951 – Les and Mary have seven hits led by "How Hight the Moon," "Mockin Bird Hill," and "The World is Waiting for the Sun Rise." They sell seven million records. They play the London Palladium and Grand Old Opry among other venues. Les visits one of his guitar heroes in Paris: Django Reinhardt. Records commercial for Rheingold beer; voted number one guitarist in US by Down Beat Magazine; Les signs with Gibson.
1952 – Les and Mary have eight hits including 'In the Good old Summertime," "Lady of Spain," and "Bye Bye Blues." Gibson introduces the Les Paul solid body electric guitar. Les and Mary move to Mahwah, NJ.
1953 – Les and Mary's biggest hit: "Vaya Con Dios;" Listerine sponsors "Les Paul and Mary Ford at Home," five-minute TV shows (170) episodes recorded in the Mahwah House. Begins work on the 8-track tape recorder. Explains sound-on-sound on TV with Alistair Cooke.
1955 – Designs Capitol Record's echo chamber in their LA headquarters. Baby girl born to Les and Mary at Valley Hospital in Ridgewood NJ. Baby dies within days of respiratory problems.
1956 – Debuts the Les Paulverizer at the White House concert for President Eisenhower.
1957 – Les and Mary sell 10 million records from 1947-57. Les Paul 's concept of the first 8-tack tape recorder deliverd by Ampex to Les; Les and Mary pushed off charts by Rock and Roll. Contract with Capitol ends. They sign with Mitch Miller of Columbia Records.
1958 – Inducted as honorary member of Audio Engineering Society.
1959 - Daughter Colleen adopted.
1960 – Son Bobby born,
1963 – Les and Mary Divorce
1964 – Divorce finalized.
1965 – Les tours Japan with son Gene. Les retires from performing; becomes a scout for new talent.
1969 – Gibson produces a Les Paul Recording Guitar with Les' design with low impedance pickups.
1972 – Les' friend Bucky Pizzarelli needed a replacement for George Barnes when he was playing at the St. Regis Hotel in NYC. Bucky persuaded Les to come out of retirement and help him.
1974 – Les and Bucky perform at the Town Hall in NYC, and on ABC's AM America
1975 – Les and Bucky perform at Carnegie Hall
1976 – Records with Chet Atkins: "Chester and Lester"
1977 – Mary dies in LA
1980's – Health issues: quintuple by-pass surgery at Cleveland Clinic; arthritic hands; both ears damaged.
1980 – Capitol releases album of Les and Mary's greatest hits
1984-94 – Regular Monday night gig at Fat Tuesday's on Third Ave at 17th Street, NYC
1985 – Plays on TV concert series 'Rock n Roll Tonight' with Jeff Beck
1987 – Birthday celebration at the Hard Rock Cafe
1988 – Featured in Cinemax 'Les Paul: He Changed the Music'
1990's – Designs and builds sound diffusing wall for Studio 2 in Mahwah home
1995 – Begins Monday night gig at the Iridium, 63rd St. and Central Park West; 2001 Iridium moves to 1650 Broadway at 51st St. Les plays there until his death in August, 2009
1997 – Featured in popular Coors beer commercial
2004 – Permanent exhibit opens at the Rock and Roll Hall of Fame and Museum
2005 – Birthday celebration at Carnegie Hall
2007 – Release of the documentary 'Chasing Sound'
2009 – Dies August 12, buried in Waukesha, WI
2011 – Mahwah Museum opens the permanent exhibit: "Les Paul in Mahwah."

Les and his Mother
Evelyn Polfuss

Here are some highlights from his life and career: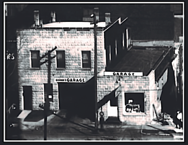 Born Above His Fathers Garage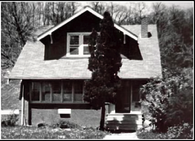 The House He Was Raised In
A Les Paul Quote
* IF THERE IS A HEAVEN ON EARTH *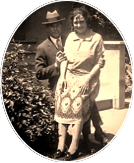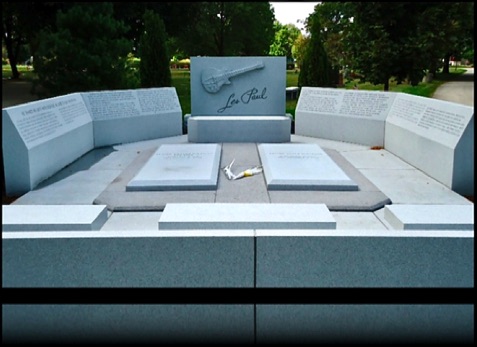 Les dies on August 12, 2009. He is buried in Waukesha's Prairie Home Cemetery next to his mother.