TD: "After I went up to Les Paul's place in New Jersey and saw his equipment, I realized the next little project would be me becoming familiar with Les Paul and real "multitrack" recording. I went into Atlantic and said "Hey, people are arguing about 2-track recording. Forget it. There's a recorder available now where you record on wide tape—eight tracks which is a much better way of storing the information."
So they went with me and said: "If you believe that it's going to help us make better records, get it." So in 1957 I went and ordered an 8-track recorder. I was the laughing stock of the industry, and New York thought I was crazy, everybody was bananas.
From the time that machine arrived until about 1962, I saw every other record company and every other studio in the country go through the painful process of going from 2-track to 3-track to 4-track. Every year, they'd amortize the equipment or write it off, and go up another track. Ultimately, they all went to 8-track anyway. We just took a shortcut.
The Drifters' chart-topping "Save the Last Dance for Me" became the first record to feature Atlantic's freshly implemented tracking facilities. By then, Atlantic's quest for musical diversification had moved well beyond anyone's wildest expectations.
We were doing a Ray Charles session, and after this one take, Ray asked to hear it back, and with a little more bass. Because I had the bass on its own track, I let him have it - just the bass! He bolts off the piano into the control room, yelling, Hey, what is that? What're you doing to my record? That's when I introduced him to the new machine. In 30 seconds, Ray Charles was addicted to eight-track.
There is a pile of records that we made the first year on that machine—the Coasters, Lavern Baker, Wilson Pickett, Bobby Darin—any one of which could have paid for it with one week's sales! I'd say that step, getting that 8-track recorder was a milestone for me. I look back on myself, and I say "Boo" to the world. I was five years ahead of them.
Thank you, Les".
The third Ampex 8-track recorder went to the
US Government.
ATLANTIC RECORDS ROYALTY
GP: I had the privilege to work with Tom Dowd and some amazing producers, artists and musicians at Atlantic Records engineering, what an honor it was. Pictured here at an Aretha Franklin session - Left to right Willie Weeks: Cornell Dupree, Ralph Mcdonald, Jerry Wexler, Aretha Franklin, Donny Hathaway, Tom Dowd, Gene Paul, Bernard Pretty Purdie & kids & Arif Mardin. Just another day at the studio..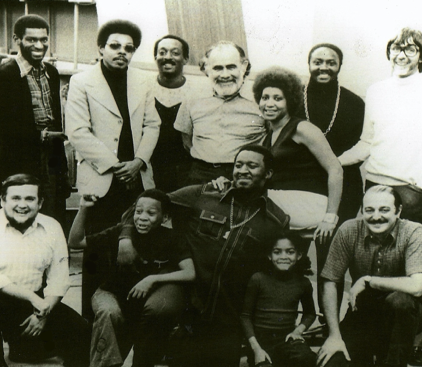 Click below to hear Tom Dowd talk about his first 8 track sessions and Les in his own words...
Tom Dowd is introduced to the future of recording by Les Paul...
Check out a great DVD of TOM DOWD & THE LANGUAGE OF MUSIC profiles the extraordinary life and legendary work of music producer / recording engineer Tom Dowd.